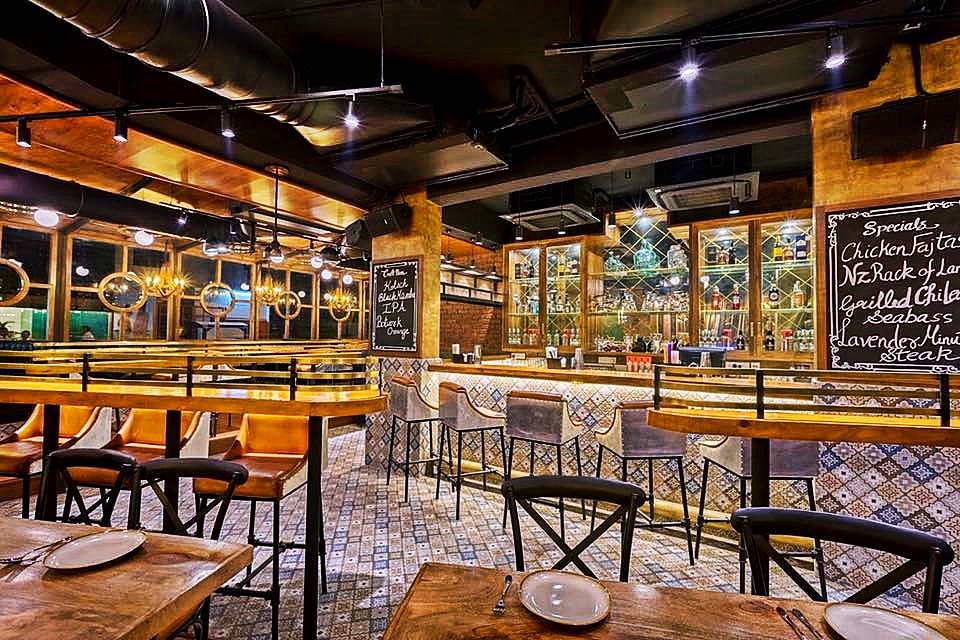 Restaurant Interior Design & Decoration Ideas
January 11, 2021
0 Comment(s)
The interiors, décor & overall styling of a restaurant defines its target market & also. In a world where the dining experience is moving from being strictly culinary to an experiential journey in itself, the design philosophy of your restaurant matters.
Café and Restaurant owners have been increasingly mindful of this fact and their endeavor to stand out from the crowd has led to the birth of some truly unique design.
1. Coastal Cafe/Restaurant

These are perfect for exuding a comfortable, chilled-out vibe and are characterized by visibly comfortable seating, mildly distressed furniture, natural lighting elements during the day, and dim lighting arrangements after dawn.
Coastal themed restaurants use extremely light color combinations and using plants to spruce up the décor is a great idea. Although the name may indicate otherwise, this interior style is not restricted to beachfront cafes.
Any spaced-out, open-air & cross-ventilated area establishment will do well to experiment with this design style including riverfront restaurants, rooftop restaurants & restaurants that are primarily based on outdoor dining.
Here are a few restaurants that have successfully pulled off this interior style.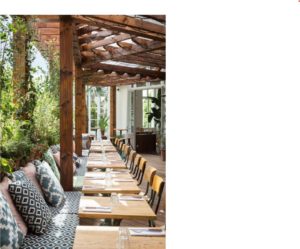 Classic Coastal Designs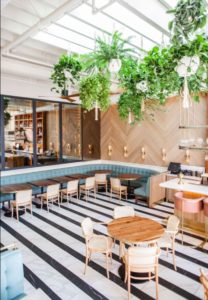 2. Rustic/Farmhouse Restaurant

Characterized by an excessive use of natural materials like solid wood, exposed brickwork and wooden flooring. Rustic interior decors are popularly referred to as farmhouse décor and it is an ideal interior design style for fine-dining restaurants that are both family and couple-friendly.

This design is ideal for smaller restaurants that are looking for a simple but clean design.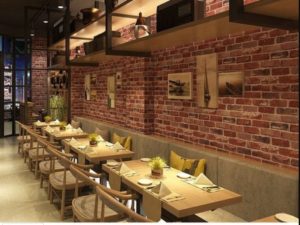 3. Vibrant Restaurant Designs

While most of the restaurant and café styles lean towards appearing refined, upscale & chilled out. A vibrant restaurant design is far from any of these. These restaurants mix flashy colors that are deliberately in stark contrast to the existing interiors of the restaurant.
Most of the restaurants that boast these interior design styles also fancy a lot of graffiti. Getting the right furniture is key, since getting colorful furniture to appear premium is a tall order and only the finest supplier/manufacturer can do the right job with this.

The subtler variations of these design styles use less colorful furniture & décor accessories but supplement that with more metallic & shiny elements that reflect the bright lighting arrangements.
If your target market consists of young groups, this is an interior design style that you definitely must consider. Several contemporary Indian restaurants also boast this design style.

4. Modern Industrial Designs

Interchangeably referred to as Industrial Scandinavian designs, this interior style takes the rugged, raw and unprocessed elements of Industrial design and adds elements of modern, sleek & edgy designs to it.
The result? An extremely charming restaurant interior that'll not seem uncomfortably fancy and not feel unpolished either. Perfect for Sunday brunches with your loved ones. Here are a few examples of these interior designs.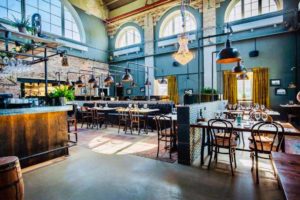 Ambient Lighting For Industrial Design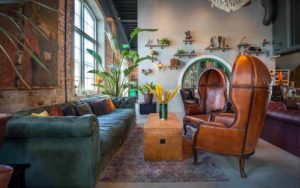 Decoration Tips For Sprucing Up Your Restaurant

Lighting

Investing in the right type of lighting arrangements so as to accentuate the appeal of the interiors and the furniture of the restaurant is key. This can include channelling natural lighting and also by using artificial lighting arrangements that are fit for a restaurant's need.
Typically, the supplier of furniture for your restaurant also has decent provisions for lighting arrangements, but if you really want to up your game, make sure to find a specialty restaurant lighting provider.
Furniture

Furniture for your restaurant is probably the most important aspect which will either make or break your restaurant's interiors. Be sure to not skimp on the furniture and make sure that you invest in contract-grade, hospitality furniture only as common furniture will simply not offer the sturdiness, durability & aesthetics that is required for a restaurant's needs.
The furniture supplier will also know exactly what is required to achieve a certain interior design objective and in most cases, the supplier works hand-in-hand with the interior designer and supplies great furniture.
We at FurnitureRoots, have helped several restaurants in India install furniture in the exact design of their choice at the most affordable prices.
Graffiti
Contrary to popular perception, Graffiti is not solely reserved for cafes & restaurants that are reserved for the young & rebellious audience. Graffiti is an extremely adaptable design tool that can also be used as an effective marketing medium.
For instance, graffiti at café shops can be used to indicate the specialty items, items on offer, special features of a few dishes & also mention the founding story of the restaurant.
Here are a few examples of Graffiti done right by upscale restaurants as well.