OUR CAFE FURNITURE CATEGORIES

Explore our collection of cafe chairs that will complement the vibe of your cafe and make your customers wanting to stay for as long as they can

Furnish your cafe with our vibrant range of tables that are an amazing blend of durability and style

Keep your customers high-spirited with our range of Cafe Table-Chair sets that bring a certain warmth and class to your place.
GET CUSTOMIZED CAFE FURNITURE IN 3 EASY STEPS
Select from 2500+ furniture designs on website or share your own
Unbox furniture that matches your decor perfectly in a few days
WHY CUSTOM-MADE CAFE FURNITURE?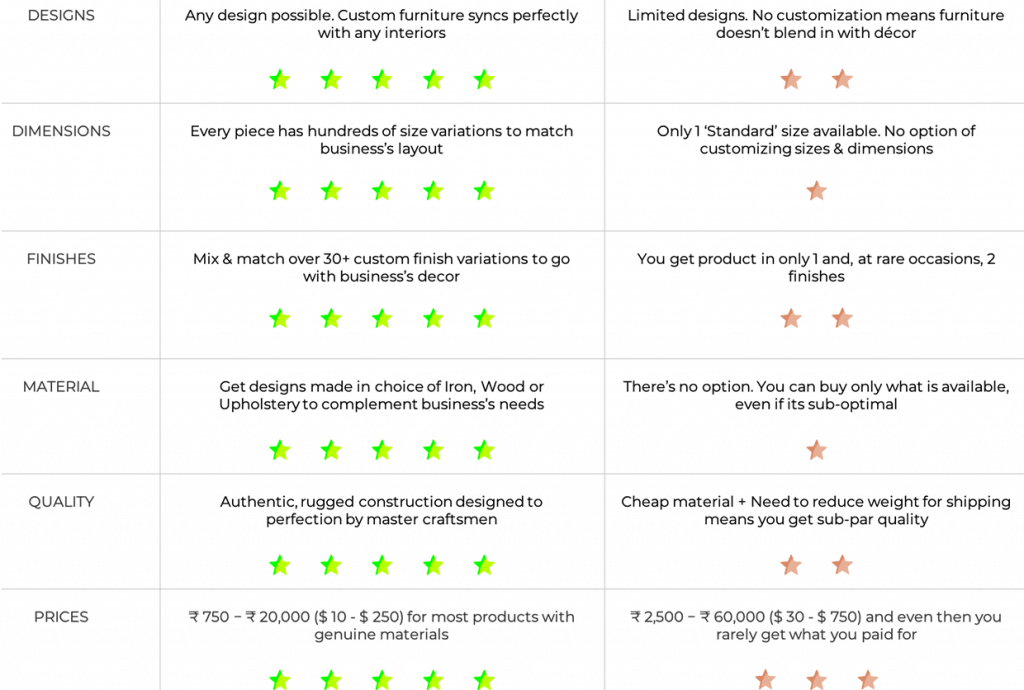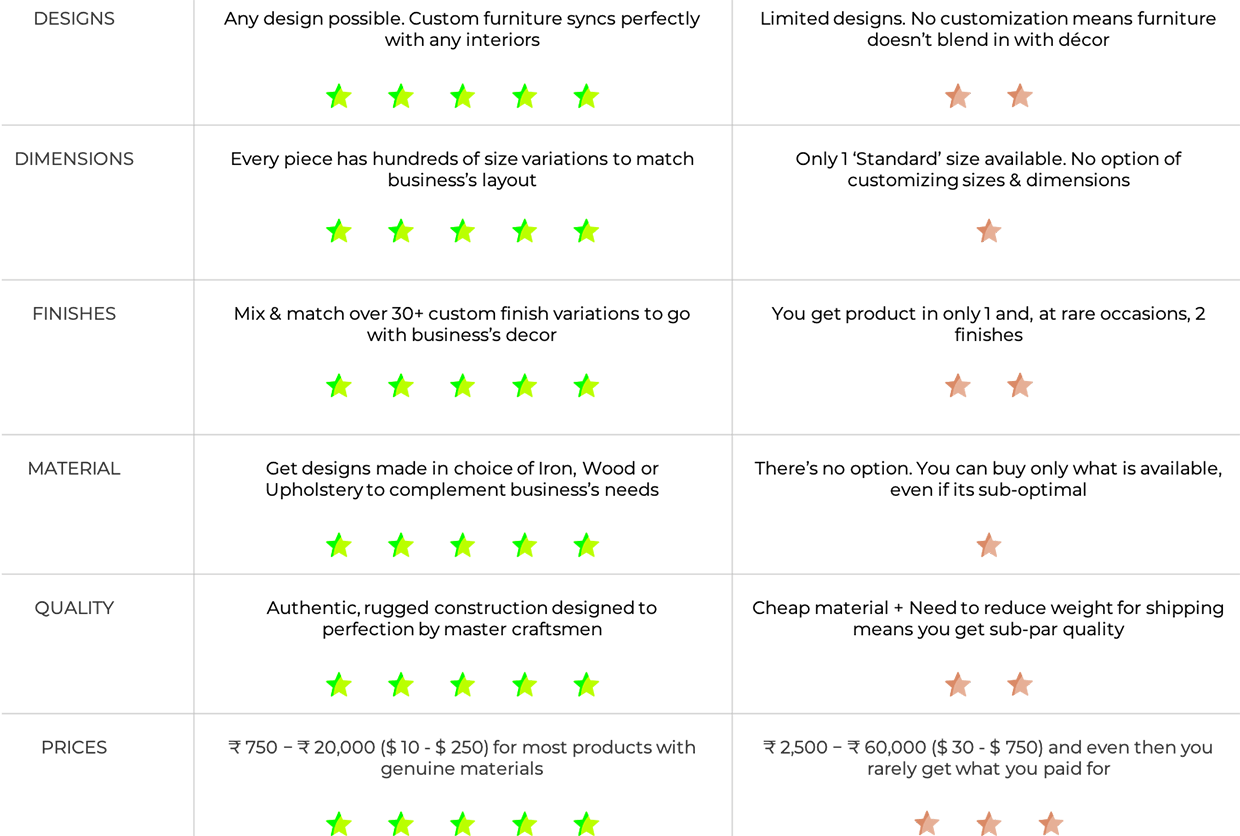 Cafe furniture that is fully customizable to fit your coffee bar / shop ambience to a T!
Cafe furniture is aimed for the casual dining segment, unlike restaurant furniture. So while it tends to have less upholstery than restaurant furniture, however it is expected to be more robust, sturdy and, yet, look chic.
Moreover, coffee bars today are expected to have an individualistic decor with striking pieces of furniture & artwork and have an ambience that spurs conversations. Cafes, nowadays, need a personality!
At FurnitureRoots, we understand this. We provide you bespoke cafe furniture that you can customize according to your cafes decor. From classic Italian or French cafes to modern sidewalk cafe to industrial or retro themed coffee bars, FurnitureRoots custom furniture will make your cafe looks as chic and snazzy as you want!
How to choose cafe furniture?
After you've chosen your location, the immediate next task that a future cafe owner has to work on is deciding the cafe's ambience. Once the atmosphere has been defined, the owner has to decide on furniture. That's a difficult one!
Because when you buy furniture for cafe, it has to don many hats – not only must the furniture complement the cafe's interiors and go with its ambience, but it also is the place where cafe's guests will be spending most of their time and so it needs to comfortable and sturdy. Add the fact that buying furniture for your coffee shop involves significant investment, it becomes essential you get it right.
Below we've outlined 6 tips that will help you base your buying decisions on reality and get the best for your investment into cafe furniture:
1. Plan the ambience / theme – The first decision factor is to figure out the concept of your cafe. This can be based to a significant extent on your location and the type of clientele your cafe is going to cater to.
Is your cafe in the business districts amidst the bustling office-goers? Then you should consider go for standing-height bar or poseur table.
Or if the cafe is in the relaxed-pace of a shopping district or a sidewalk cafe where people come to chill, then go for comfortable upholstery furniture where your clients can sit comfortably for longer periods of time.
2. Decide number of covers – Once you've figured out the concept of your cafe then arriving at the number of covers (i.e., the number of seats in the restaurant) required will become easier to calculate.
You simply have to figure out how large is your seating in your diner and decide on the style and number of tables and chairs keeping the overall space in mind.
If your cafe will cater to small groups of walk-ins, you'll likely consider keeping smaller tables with seating for 2-4 people. Or if your cafe is expected to cater to large families or groups, you'll likely need to buy longer dining tables with 4+ covers per table and plan the covers according to the overall space available.
3. Cafe seating layout – Correct dimensions and commodious proportions help in providing your clients ample space and instills a sense of luxury in your clients. But you also need to cater for space between covers.
Leave a passage area of 18-inches minimum between tables and chairs in order to provide both your guests as well as your staff a comfortable passage throughout the cafe. In some cases you might need wider aisle to accommodate wheelchair. You'll need a minimum of 36-inches wide aisle for persons with disabilities.
4. Buying commercial grade cafe furniture – Don't make the mistake of buying residential grade furniture for a commercial environment such as a restaurant or cafe.
Residential grade furniture is often built for 1-2 hours of gentle use a day and so  will often not stand up to the hard-wearing, 10-15 hours/day of unforgiving use in coffee shop environments.
Commercial quality products will make sure the joinery, hardware and other potential problem areas are of a sufficient standard for heavy use.
5. Consider maintenance and longevity – Coffee shops require cleaning multiple times a day. This translates into furniture coming into contact with cleaning materials and liquids.
Furthermore, furniture kept in coffee shops will be regularly picked / pulled / dragged / stacked; will see food or beverage spillages; and come in regular contact with cleaning liquids. This translates into a significant upkeep and maintenance requirements, which effects the life of furniture substantially.
Try to buy furniture keeping in mind such upkeep and maintenance issues in mind. You may want to choose chairs with handles on backrests for easy pick / pull; ensure use of high quality floor glides on chair legs; use high quality powder coating or electroplating for outdoor cafe furniture in metal; use PU or Vinyl upholstery for seats; ensure cafe chair and table designs that prevent of collection of food crumbs etc.
6. Buying value priced furniture – Success in the cafe industry depends on making ROI-efficient choices. It is important to cut down costs – furniture being one of the major investments.
You will realize quickly that unless you buy directly from cafe furniture manufacturer, you are likely buying a product that has gone through multiple levels of mark-ups. Furniture goes through multiple reseller chains in commercial and hospitality furniture industry, each reseller adding their own margins, thereby inflating the cost of furniture substantially.
However, do research the internet and try tie up with manufacturer for your cafe furniture requirements. A small amount of effort will result in potentially thousands of dollars in savings!
Are you planning to get furniture for your coffee shop that requires replacement in just a couple of years OR custom built furniture that's individualistic, heavy-duty and available at great prices? Get in touch with us at +91-9769003311 OR email [email protected] OR fill up enquiry form on our website in order to get bespoke, commercial-grade furniture that doesn't burn a hole in your pocket.
Cafe furniture styles: Type of cafe furniture designs available at FurnitureRoots:
FurnitureRoots is a leading manufacturer, wholesaler and supplier of furniture for cafes, coffee shops, coffee bars, outdoor cafes, sidewalk cafes and French and Italian bistro cafes globally.
With FurnitureRoots' bespoke capabilities, get cafe furniture in a wide range of designs, including industrial, rustic, vintage / retro, modern, or distressed cafe tables and chairs.
The design of the chairs in a cafe are driven, to a large extent, by the clientele the cafe is aimed at. FurnitureRoots makes a wide range of cafe chair designs catering to a range of requirements. Choose between the elegant and relaxing bentwood chairs to metal chairs that create an industrial and vintage feel to outdoor cafe chairs made of rattan/wicker. Or select between Cafe Benches, Sofas for Cafes, Cafe Counter Stools, Cafe Bar Stools, Folding Cafe Chairs, and Cafe Booth Seating.
Cafe tables consist of table tops and table bases. These are usually ordered separately; the bases are almost always pedestals which maximize the seating flexibility. FurnitureRoots manufactures and provides you cafe table tops in a choice of wood, metal, glass-top, marble or granite stone and engineered stone.
FurnitureRoots also provides cafe tables in a variety of shapes. Choose from a range of Round Cafe Tables, Square Cafe Tables, Live Edge Cafe Table, Small Cafe Tables, Tall/High-Top Cafe Table.
Take the guesswork out of the equation! With FurnitureRoots' pre-matched selection of cafe tables and cafe chairs, you don't have to spend thought or time on mixing and matching cafe tables with chairs. With FurnitureRoots' wide range of cafe dining sets that are fully customizable, you can be assured of finding furniture that is suits your cafe's decor perfectly!
Buy bespoke and custom-made cafe furniture online at FurnitureRoots
FurnitureRoots is a leading manufacturer, wholesaler, supplier and exporter of custom made furniture for cafes, coffee bars and coffee shops globally. When you buy commercial cafe furniture with FurnitureRoots, you get the benefit of:
1. Fully Customizable Designs
You can customize your furniture for the following parameters – designs, dimensions, materials, colors, finish and engineering / hardware. So you get furniture that matches your cafe's decor perfectly!
2. High Quality Furniture Graded For Rigorous Commercial-Use
Coffee Bars and Shops require commercial-grade furniture that can withstand long hours of use, constant food & beverage spillages and regular cleaning.
FurnitureRoots is a specialized furniture manufacturer for commercial and hospitality businesses. All our cafe furniture items are made to higher quality and durability standard that a commercial set up entails. We use commercial-grade raw materials, hardware and joinery techniques & technology.
So you get furniture that can withstand the rigorous conditions at your commercial cafe and give you long years of problem-free service.
3. Low, Direct-from-Manufacturer Prices
Given that you are getting furniture directly from a manufacturer, eliminating margins of distributors / wholesalers / supply chain, you get the lowest possible prices for commercial-grade cafe furniture.
Buying hospitality furniture from FurnitureRoots is an assured way of ensuring you spend minimum for very high quality, custom-made furniture and don't have to worry about sky-high cost of furniture that you would otherwise have to shell out on furniture sourced from B2C retailers that, perforce, accommodate multiple layers margins of intermediaries.
4. Reliability
FurnitureRoots is an ISO 9001:2015 certified bespoke furniture manufacturer and exporter with experience of over 300+ cafes, patisseries and coffee shops and other hospitality projects.
We specialize in making commercial-grade furniture that is purpose built for ruggedness and durability. So you don't go wrong when it comes to your large ticket-size hospitality furniture purchases.
5. Experience Of A Specialist Commercial Furniture Manufacturer
FurnitureRoots offers a professional, full-service experience to Cafe Designers, Cafe Decorators and Commercial Interior Designers and Architects on their Commercial Hospitality & Project Furniture requirements. Contact us for if you want to explore FurnitureRoots as your Restaurant, Bar or Cafe Design and Manufacturing partner of choice.
Buy bespoke Coffee Shop Tables, Coffee Shop Chairs, Commercial Cafe Stools and Wholesale Coffee Shop Furniture online from FurnitureRoots at cheap price and provide your guests a luxurious dining experience that balances elegance and comfort with durability and value.
FurnitureRoots sells Cafe Furniture at these Locations globally.