HOW TO REPEL TERMITES IN WOODEN FURNITURE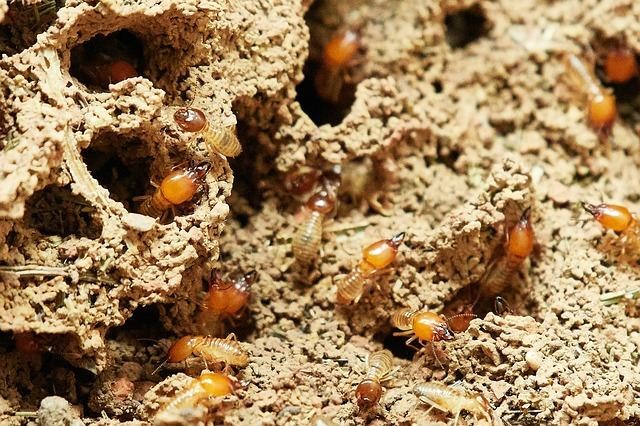 If you?re an avid admirer of wooden furniture your biggest nightmare is most likely a termite infestation. And rightly so – termites are an extremely destructive species of insects that can ruin your beautiful home before you even notice them. The good news is that at least they are not dangerous to your family or pets, but that doesn?t mean you can just live together in peace.

A severe termite infestation can result in tons of property damage that would cost you at least two kidneys and a middle-sized car. Thankfully, there are some very effective ways to protect your furniture and repel those nasty insects in a natural way.
It?s important to note that the following advice is aimed to prevent an infestation. If you?re already a victim of one, please turn to a
professional pest control company
, as they will deal with the issue effectively.
WHAT DO WOOD INFESTING TERMITES LOOK LIKE
You might think you know what termites look like but the truth is that they bear a very close resemblance to flying ants. It?s very important if you do see insects on your property, to be able to distinguish them and choose the right treatment. In the illustration below you can see the main difference between flying ants and termites.
As you can see, the main differences are the waist, wings, and antennae. Worker termites are a lot smaller compared to the kings and queens of the swarm. They usually reach only 4mm in length, while the latter can grow up to 10mm. This along with the fact that workers are very light in color makes them quite hard to detect. Most of the time you would probably see the explorers – swarming groups that have the task to look for food and protect the royal family.
MAKE SURE ITS DRY
Wet wood attracts termites faster than Kelis? milkshake brings the boys to the yard. Jokes aside, you have to keep your wooden furniture dry at all times. Use special wood cleaning detergents and wipe the excess liquid with a clean microfibre cloth. Don?t clean any of the wooden items with water and dish soap! Last but not least, tablecloths are a must, especially if you have messy children around.
DON'T FORGET THE POLISH
Polish for wood is an extra layer of protection that helps a lot with termites. If you?re using a high-quality product, the insects will not be able to penetrate the surface at all. Keep in mind that there are many different types of polish and you have to find the right one for your wooden furniture.
Your table can be oak but the bookcase could be maple, birch or walnut. To be on the safe side, check with a manufacturer and together you can choose the best possible solution for your furniture.
The polishing also needs to be done by a professional because there are so many elements to it. Probably you would have to prepare the area, clean it up, apply a primer, and then finally use the actual polish. It can be more costly, we agree, but it would still cost less than repairing the vast amount of damage termites can cause.
If you decide to do it by yourself, just make sure you?re in a well-ventilated area, preferably outside and you always wear protective gear. Whatever you?re applying to your wooden furniture, always test the product on a small inconspicuous area to make sure you won?t cause any damage.
POSITION THE FURNITURE TOWARDS THE SUN
As we already mentioned, termites love wet wood and that usually occurs when your wooden table, bookcase or wardrobe are left in a dark and moist environment. Obviously, you can?t put every single piece of wooden furniture in the sun, but you can at least try to put it in an exposed, partially sunny area.
This step is extremely important when you?re purchasing second-hand furniture. Before putting it in your house, leave it outside (unless it?s raining) for at least a day so that the sun can kill all the insects you might have brought along. The sun will also kill any potential bed bugs, which can be even worse.
UINDERTAKE REGULAR HUMIDITY CHECKS
To further prevent the creation of the perfect termite environment, regularly check your property?s humidity levels. Attics, closets, and crawl spaces are famously moist areas that would be like a 5-star hotel for termites. Place dehumidifiers in those rooms and make sure there are no cardboard boxes or abandoned wooden furniture. To store your belongings, we recommend using plastic tubs with lids, hard plastic suitcases, etc. Just anything that is not cardboard or wooden.
KEEP TERMITE SENSITIVE ITEMS AWAY FROM THE FOUNDATION
This includes firewood, cardboard boxes, newspapers, wood debris, trees – basically anything that termites can munch on. Those things will attract them to your property in no time and motivate them to go further and explore. Once an area is deemed rich in food by the termites, they will notify the rest of the swarm and permanently move in so that they can be close to their dinners.